How Can I Make Money From My Mobile? (11 Practical Ways For 2024)
In today's world, where mobile phones have become an integral part of our lives, it's not surprising that they offer numerous opportunities to earn money.
Whether you're looking to supplement your income or embark on a full-time mobile-based career, there are various ways to make money from your mobile device. Today I'm going to talk about 11 practical ways to make money from my phone.
In this article, We will explore How can I make money from my mobile, along with steps you can take to make it happen. Let's delve into the details.
How Can I Make Money From My Mobile? (11 Practical Ways For 2024)
1. Use an Investment App:
Investment apps have made it easier than ever to invest your money and potentially generate income. By downloading a reliable investment app, you can start investing in stocks, cryptocurrencies or mutual funds with just a few taps on your mobile screen.

While investing does carry some risks, it also offers the potential for significant returns over time.
Let's explore some of the top investment apps.
Robinhood
Robinhood has garnered considerable media spotlight. This application is frequently utilized for intricate investments such as stock and fund trading. It provides access to "fractional shares", enabling you to invest as little as $1 instead of purchasing a whole share of your chosen investment.
Acorns
Acorns is an excellent option for initiating investments without feeling the impact. The app achieves this by automatically rounding up your purchases to the nearest dollar and transferring that amount to your investment account.
Additionally, you have the opportunity to accumulate extra funds for your account through purchases made with Acorns's affiliated partners.
2. Sell Your Old Stuff:
One of the easiest ways to make money from your mobile is by selling your old belongings. Whether it's clothing, electronics, or furniture, there is likely a market for your items.
Platforms like eBay, Facebook Marketplace, or local buy-and-sell groups provide convenient ways to connect with potential buyers and pocket some extra cash. Let's explore some.
Poshmark
List your items for sale on Poshmark, and they'll cover the postage. You can also host a party, collaborating with friends to list similar items.
Note that listing is free, but a fee is applicable upon making a sale. For items priced under $15, there is a charge of $2.95, while items above $15 incur a 20% fee.
Decluttr
Utilize the Decluttr app to sell tech and media items such as cell phones, games, DVDs, CDs, and books. The app provides complimentary shipping for all orders and ensures prompt next-day payments for the items you successfully sell.
An interesting feature is the option to scan an item's barcode, instantly obtaining an estimate of its value.
3. Trade in Your Old Stuff on Amazon:
Here's another method to make money from your mobile, which involves selling items that you don't need anymore. While this approach doesn't provide cash, it allows you to earn gift cards.
Amazon offers an excellent trade-in program where you can send in various tech items such as Amazon Devices, video games, phones, accessories, and more.
If your item meets the eligibility criteria, you'll receive an instant offer in the form of an Amazon gift card or a promotional credit that can be applied toward the purchase of a new device.
Simply scan the barcode of the item you want to sell using the Amazon Seller app, receive an instant offer, and ship your item for free.
4. Sell Your Data:
Believe it or not, your browsing habits and data have value, and you can cash in on them. Mobile apps like DataCoup and Panel App allow you to monetize your data by sharing it with market research companies.
After you've opted in and provided permission, these apps collect anonymous data about your usage behavior, translating into cash or rewards.
For some individuals, the idea of installing an app on their phone and essentially "selling" their data may raise concerns about personal privacy invasion. However, if you're comfortable with it, this represents an ideal method to earn money from your phone without any additional effort.
For example, Nielsen is an instance and a major player in the global market research industry. They're interested in understanding your phone usage and are willing to compensate you for it.
By participating in Nielsen's Computer & Mobile Panel, all you need to do is download a secure mobile app. That's the extent of it! The app will monitor and record your phone usage, providing the company with valuable market research data.
Upon signing up, you can earn up to $50 in points, redeemable for gift cards.
5. Fill Out Surveys:
Numerous survey apps, such as Swagbucks, Survey Junkie, and Toluna, offer monetary rewards or gift cards in exchange for completing surveys on your mobile device.
Although the individual payout may be small, these surveys can quickly add up and provide an easy way to make money during your spare time.
Let's explore a few popular survey apps.
InboxDollars
This app rewards you for participating in surveys and various activities such as watching videos, playing video games, and reading emails. Along with cash payments, members also enjoy perks like coupons and cashback for online shopping.
Swagbucks
Swagbucks is an online platform where users earn rewards (Swagbucks or SB) for activities like surveys, watching videos, and shopping. These points can be redeemed for gift cards, PayPal cash, and other rewards. With a user-friendly interface, Swagbucks offers a versatile and popular way to earn rewards online.
Qmee
Qmee is a browser extension that rewards users for searching, shopping, and taking surveys online. It offers cash rewards that can be withdrawn through PayPal, making it a convenient way to earn money while browsing the internet.
Qmee seamlessly integrates into your web experience, providing a simple and effective method for earning extra cash.
6. Sell Photos:
If you have a talent for photography, you can sell your photos online through platforms like Shutterstock, Foap, or Adobe Stock.
By uploading high-quality images from your mobile phone, you can earn a passive income whenever someone downloads or purchases your photos. Let's see some online platforms for photo selling.
Foap
FOAP is a free platform where you can sell and resell the same photo without restrictions. Each photo is priced at $10, and you retain half of the sale amount ($5).
You have the flexibility to build a portfolio of stock photos or submit your images to "missions," which are tasks set by larger companies seeking specific content.
Winning the attention of a mission poster can result in earning a substantial amount of cash.
7. Run a Shopify Store From Your Phone: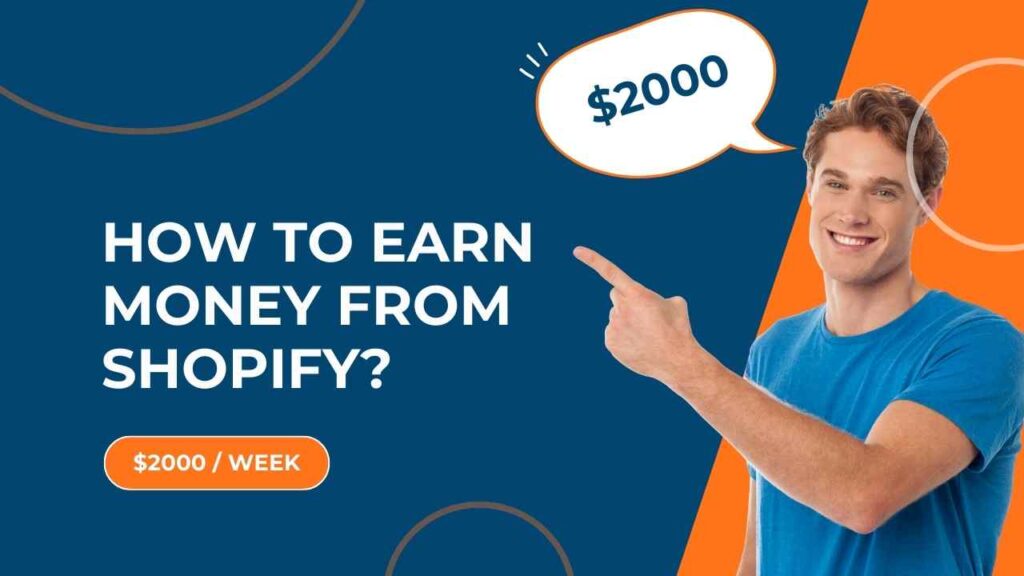 Thanks to the convenience of mobile apps, you can now run your own e-commerce store from the palm of your hand. Platforms like Shopify offer comprehensive mobile apps that allow you to manage your products, process orders, communicate with customers, and even keep revenue levels in check.
Whether you're dropshipping or selling your own products, running a Shopify store offers flexibility and earning potential.
While the initial setup of your store may require a desktop, the Shopify mobile app enables you to manage your day-to-day store operations conveniently while you're on the move after your store is established.
8. Earn Rewards for Playing Games:
If you enjoy playing mobile games, why not turn your hobby into a money-making opportunity? Apps like Mistplay and Lucky Day offer rewards or cash prizes for playing fun games on your mobile device.
While the earnings may not be substantial, it's a fun way to make some extra money during your leisure time. Let's see –
Mistplay
In Mistplay, you play and level up in games to earn Units (MistPlay's in-app currency). Then you redeem Units for gift cards to companies like iTunes, Amazon, and Best Buy.
There's a variety of genres on offer, including survival, card, puzzle, adventure, and strategy games.
9. Affiliate Marketing:
Affiliate marketing involves promoting products or services on behalf of a company and earning a commission for every sale or lead generated through your referral.
Many businesses offer affiliate programs, allowing you to earn money by sharing unique referral links through your mobile device. Let's see some popular affiliate marketing platforms.
Amazon Associates
It is an affiliate marketing program that allows individuals to earn commissions by promoting Amazon products on their websites or blogs. Participants receive a percentage of the sales generated through their affiliate links. It's a widely used platform for monetizing online content through referral marketing.
ShareASale
ShareASale is an affiliate marketing network that connects merchants with affiliates, enabling them to promote products and earn commissions on sales. Affiliates can choose from a wide range of merchants and products to promote on their websites or blogs.
ShareASale provides a platform for effective collaboration between merchants and affiliates in the digital marketing space.
CJ Affiliate
This is a prominent affiliate marketing network that connects advertisers with publishers to promote products and earn commissions on sales.
It offers a vast selection of advertisers and products for publishers to choose from, making it a comprehensive platform for affiliate marketing.
CJ Affiliate facilitates partnerships and transactions in the online advertising ecosystem.
Interested? Learn more about Affiliate Marketing here.
10. Blogging:
Although blogging typically requires a computer, mobile devices now offer powerful blogging apps that allow you to write and publish content on the go.
Starting a blog and monetizing it through advertising, sponsored posts, or affiliate marketing can provide a consistent income stream over time.
With dedication and quality content, you can grow your blog into a profitable venture.

Wanna know more details? Read this- Can I earn money from blogging in 2023?
11. YouTube Content Creation:
YouTube has become a popular platform for content creators to share videos and earn money through ad revenue, sponsorships, and merchandise sales.
With just a mobile phone and some creativity, you can start a YouTube channel and create engaging videos on topics that interest you. Consistency, quality, and building a loyal audience are key to success on this platform.
Interested? Learn more about YouTube Content Creation and how to earn money here.
Conclusion: How Can I Make Money From My Mobile?
Today, smartphones have opened up countless opportunities to make money without the need for specialized knowledge. By employing the right strategy and utilizing various apps, you can generate additional income with your mobile by completing simple tasks.
Now you know How can I make money from my mobile. Whether you're looking for some extra pocket money or dreaming of a mobile-based career, our guide to these 11 practical ways to make money from my phone provides practical options to turn your smartphone into a money-making tool.
So next time you pick up your mobile device, remember that it holds the potential to bring financial freedom and opportunities right at your fingertips.
To sum it up, here are 11 practical ways to make money from my phone:
Use an Investment App
Sell Your Old Stuff
Trade in Your Old Stuff on Amazon
Sell Your Data
Fill Out Surveys
Sell Photos
Run a Shopify Store From Your Phone
Earn Rewards for Playing Games
Affiliate Marketing
Blogging
YouTube Content Creation
Share your knowledge! Let others discover additional ways to make money on their phones by commenting below. Your insights could help others boost their income.
I hope after reading this complete blog, you will be able to know about 11 practical ways to make money from my phone. If you have still any doubts or questions in your mind then let me know in the comment section.
Thanks for reading guys. Don't forget to share this with anyone who needs to know about online earning.