How to make money with graphic design online in 2023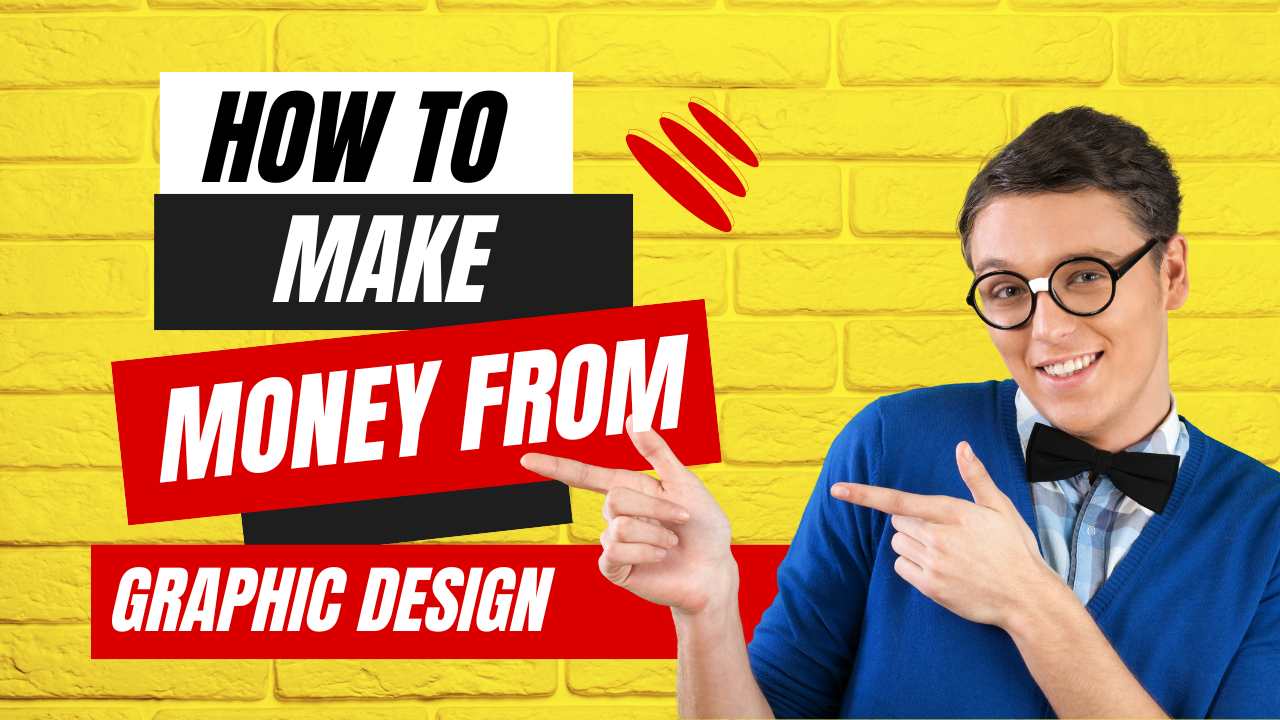 Do you want to make money online as a graphic designer? If yes, then read the complete article because, in this article, I am going to share a lot of ways that help you to solve your question "How to make money with graphic design online in 2023". We will discuss every point that you want to need when we are talking about making money
In today's digital age, graphic design has become an essential skill, and the demand for talented graphic designers continues to grow. If you possess graphic design skills, you're in luck because there are numerous opportunities to turn your passion into a profitable online venture. In this article, we will explore various ways to make money online as a graphic designer online in 2023.
How to make money with graphic design online
Freelance Graphic Design
Freelancing is a fantastic way to showcase your graphic design talents and make money online as a graphic designer. Platforms like Upwork, Fiverr, and Freelancer allow you to connect with clients from all over the world. Create a captivating profile, display your portfolio, and start bidding on projects that match your expertise.
Sell Your Designs on Print-on-Demand Websites
Print-on-demand websites like Redbubble, Teespring, and Society6 offer a hassle-free way to sell your graphic designs on various products, from t-shirts to phone cases. You create the designs, and these platforms handle the printing, shipping, and customer service.
Launch Your Graphic Design Blog
Starting a blog dedicated to graphic design can establish you as an authority in the field. Share design tips, tutorials, and industry insights. Monetize your blog through advertising, affiliate marketing, and sponsored posts.
Offer Online Courses
If you excel in a particular aspect of graphic design, consider creating and selling online courses. Platforms like Udemy and Skillshare provide a vast audience for your courses. Share your expertise and help others improve their design skills.
Create and Sell Graphic Design Templates
Graphic design templates for social media, presentations, and websites are in high demand. Design and sell templates on platforms like Creative Market and Envato Elements. It's a great way to earn passive income.
Provide Branding Services
Help businesses establish their brand identity by offering branding services. Create logos, business cards, and marketing materials for startups and established companies.
Collaborate with Influencers
Partner with social media influencers to design graphics for their channels. Influencers often require eye-catching visuals to engage their audiences, and your services can be invaluable.
Join Design Contests
Websites like 99designs host design contests where clients post their design needs, and designers compete to win the project. It's a competitive but rewarding way to showcase your skills.
Start a YouTube Channel
Video content is incredibly popular, and starting a YouTube channel focused on graphic design tutorials and tips can attract a dedicated following. Monetize your channel through ads and sponsorships and this can help you to make money online as a graphic designer.
Offer 1-on-1 Design Consultations
Provide personalized design consultations to clients looking for tailored solutions. This approach allows you to charge premium rates for your expertise. You can make money online as a graphic designer with this way but for that you must have experience.
Leverage Social Media
Create a strong presence on social media platforms like Instagram and Pinterest to showcase your work. Engage with your audience, and you might attract clients directly from your profiles.
Write Ebooks on Graphic Design
Compile your knowledge into ebooks and sell them on platforms like Amazon Kindle. Ebooks can be an excellent source of passive income. It will ab a great way to make money online as a graphic designer.
Collaborate with Web Developers
Team up with web developers to offer complete website design packages. Many businesses are looking for one-stop solutions for their online presence.
Design Merchandise for Local Businesses
Approach local businesses and offer to design merchandise like t-shirts, mugs, or posters featuring their branding. It's a great way to support your community while earning money.
Virtual Reality and Augmented Reality Design
Stay ahead of the curve by exploring virtual reality and augmented reality design. These emerging fields offer exciting opportunities for graphic designers.
Create an Online Portfolio
A professional online portfolio is essential for attracting clients. Showcase your best work and update it regularly to reflect your growth as a designer.
Affiliate Marketing for Design Tools
Promote graphic design software and tools through affiliate marketing. Earn commissions for each sale generated through your unique affiliate links.
Offer Subscription Services
Create a subscription-based model for premium design resources, such as exclusive templates, tutorials, or design assets.
Participate in Online Design Communities
Engage with online design communities to network and learn from fellow designers. Building relationships can lead to collaboration opportunities.
Host Webinars and Workshops
Share your knowledge and skills by hosting webinars and workshops. Charge a fee for attendees to access your expertise.
Expand Your Skill Set
Keep learning and expanding your skill set to stay competitive. Explore new design trends and software to offer a wider range of services.
Graphic Design for E-commerce
E-commerce businesses rely heavily on visuals. Offer your design services to e-commerce entrepreneurs looking to enhance their product listings and websites.
Pitch to Nonprofits
Nonprofit organizations often need design work but may have limited budgets. Offer your services at a reduced rate to support causes you care about.
Create a Design Agency
As your client base grows, consider scaling your operation into a full-fledged design agency. Hire other talented designers to take on more projects.
You may read -: How to earn money as a graphic designer in 2023
Conclusion
As a graphic designer in 2023, the opportunities to make money online are virtually limitless. Whether you choose to freelance, sell your designs, or explore various other avenues, your skills can be a valuable asset in the digital age. Stay creative, stay updated with design trends, and seize the opportunities that come your way. Making money with graphic design online is not only possible but also an exciting and rewarding endeavor.
I hope after reading this complete article, you will be able to understand how to make money with graphic design online. If you have still any questions or doubts related to make money online as a graphic designer then you can ask your doubts in the comment section.
If you think this article is helpful for you then don't forget to share this article with your friends and family. Thanks for reading this wonderful article.